Nachbericht: i²c Extended Study on Innovation (ESI) Demo Day 2021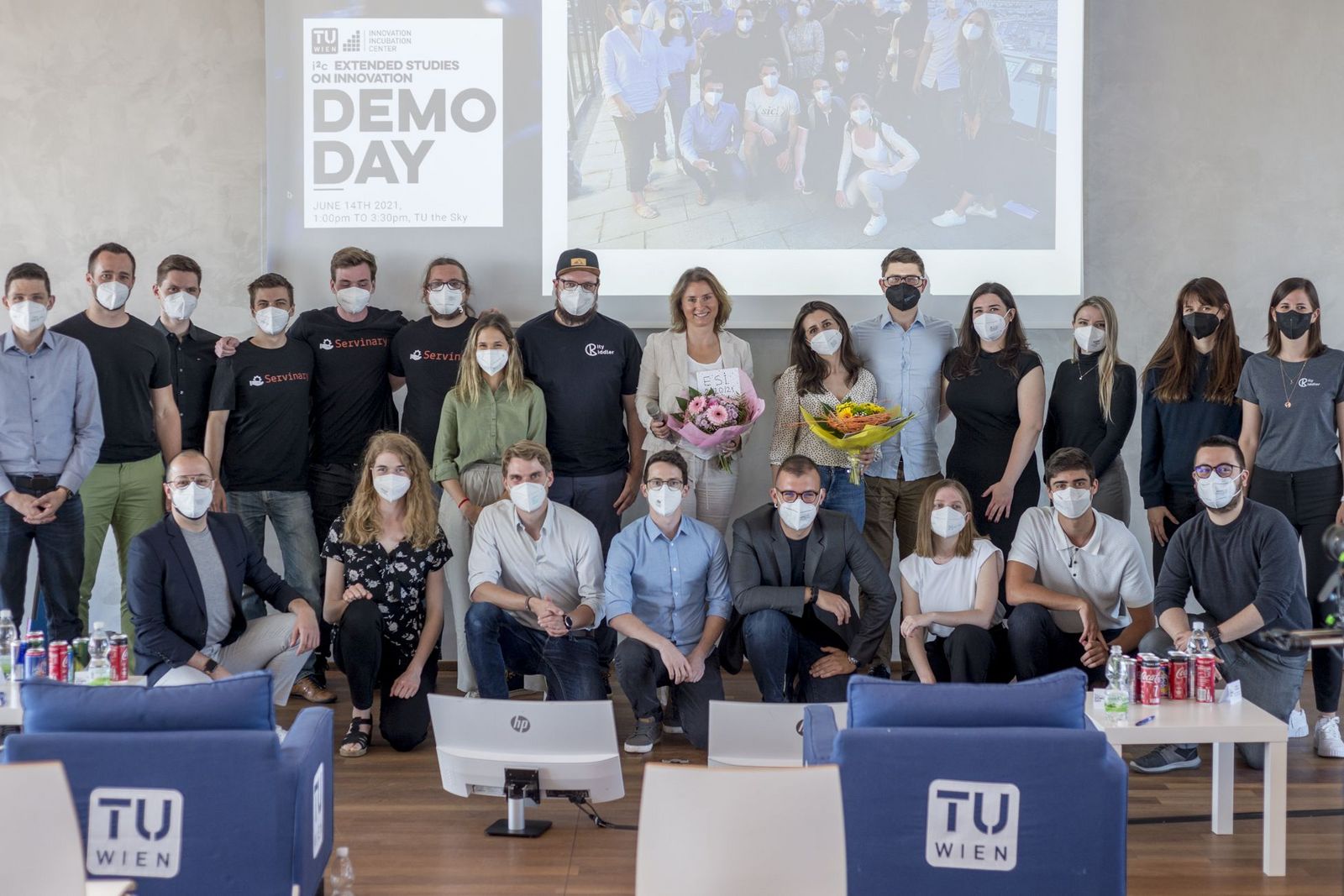 Am 14. Juni 2021 lud das i²c Innovation Incubation Center der TU Wien erneut zum Demo Day, der Pitch Challenge des Erweiterungsstudiums Innovation ein.
Diesmal wetteiferten bereits im neunten Batch 9 Studierendenteams um pre-seedPreise im Wert von über einer viertel Million Euro. Aufgrund der noch geltenden Corona-Regeln fand der Demo Day als hybride Veranstaltung mit Streaming statt, um den Schutz und Sicherheit der Teilnehmer_innen zu gewährleisten.
Über das
i²c

Curriculum

Das vom i²c angebotene Erweiterungsstudium Innovation bietet TU Studierenden aller Fakultäten eine erstklassige, praxisbezogene Weiterbildung im Bereich Intra- und Entrepreneurship. Innerhalb von zwei Semestern bekommt eine eigens ausgewählte Gruppe von Studierenden das fachliche Rüstzeug und Mentoring in allen relevanten Fachgebieten, um sie auf eine Unternehmensgründung oder eine Karriere im betrieblichen Innovationsmanagement vorzubereiten. Unter enger Begleitung erfahrener Mentor_innen, entwickeln die Studierenden Ideen und implementieren das angeeignete Know-how in ihren eigenen Projekten. Das Ergebnis des intensiven einjährigen Studiums wird einer Jury und Branchenexpert_innen im Rahmen eines Pitches präsentiert – dem jährlich stattfindenden Demo Day.
Grußwort und
Success Story "contextflow"
Professionell und authentisch wurde der Demo Day mit Grußworten durch Birgit Hofreiter, Direktorin des i²c, eröffnet. Als erfahrener Moderator von Start-up-Eventsmoderierte erstmals Georg Kuttner in Vertretung für "Pitch-Professor" Daniel Cronin zuverlässig durch die Hybrid-Veranstaltung und interviewte Birgit Hofreiter zu Beginn des Events zum Erweiterungsstudium Innovation. Anschließend stellte Georg Kuttner Markus Holzer, Co-Gründer von TUW und MedUni Wien Spin-offcontextflow vor, welcher ein i²c ESI Absolvent aus dem Jahrgang 2015 ist. Contextflow – eine 3D Image-Based Suchmaschine für Radiologen – ist ein Bilderbuch-Beispiel für die erfolgreiche Gründungsförderung am TUW Innovation Incubation Center in Zusammenarbeit mit dem Gründer-Ökosystem Österreichs und machte erst in den vergangenen Wochen wieder Schlagzeilen – diesmal mit einer mittleren siebenstelligen Series A Finanzierungsrunde.
Die
Pitch Challenge

: Jury + Projekte

Danach folgte die Pitch Challenge der 9 Studierendenprojekte in den Bereichen Impactund Nachhaltigkeit, Künstliche Intelligenz, Life Science, EduTech, E-Commerce und Konsumgüter, bei der die Studierenden vor einer prominenten Jury von Start-up-Investor_innen pitchten:
Michael Altrichter, Investor und

Entrepreneur

Caroline Klinger, Projektleiterin

4Entertainment

, ProSiebenSat.1 PULS4 Mediengruppe
Marie Ringler, Europaleitung und

Global Leadership Group Member Ashoka

Gabriele Tatzberger, Leiterin

Start-up

–

Services

, Wirtschaftsagentur Wien
Die folgenden Projekte des Studienjahres 2020 nahmen an der Pitch Challenge teil:
Decima ist ein Bilderkennungsalgorithmus zur Fehlererkennung im Retourwaren

handling

.
Servinary ist eine transparente Suchplattform für Reparatur

services

.
Taxator Buchhaltung- und Steuer

services

für die individuellen Bedürfnisse von Kleinunternehmen.
CityRiddler ermöglicht

AI-generated gamified experiences

mit interaktiven Rätseln – auf Interessensschwerpunkte personalisierte Rätsel

ralley

für Jung und Alt.
cogrowing strebt eine globale, multikulturelle Kindergemeinschaft für die Bewusstseinsschaffung für Nachhaltigkeit und sozialer Integration an.

Ydun Microsystems

ist ein organähnliches

Mini-Lab

auf einem

Microchip

mit vielfältigen Anwendungsmöglichkeiten in der Humanmedizin, welches zusätzlich Tierversuche unnötig macht.
kula ist eine

App

, mit der

Apps

ohne Programmierkenntnisse erstellt werden können und automatisch in

App-Stores

zur Verfügung gestellt werden.
MathPie ermöglicht es Schüler_innen ihre mathematischen Fähigkeiten zu trainieren und zu verbessern.
Zeitgeber ist ein Licht-Therapie-System ungleich bereits bekannten Tageslichtlampen, womit der persönliche Bio-Rhythmus verändert bzw. angepasst werden kann. Depressionsprävention bzw. Depressions-Lichttherapie-Unterstützung inklusive.
Die Gewinner der

Pitch Challenge
Die Jury war von den Ergebnissen begeistert und zeichnete folgende Gewinnerteams mit Preisen im Wert von 60.000,- und Werbewert von 250.000,- Euro aus:
Acceptance into the TUW i²ncubator + 1 year co-working space
Sponsor: TUW i²c
Pitch at the Pan-European STAGEtwo Finals (Berlin, October 29th, 2021)
Sponsor: TUW i²c
WILDCARD "2Minuten 2Millionen"
Sponsor: ProSiebenSat.1. PULS4
WILDCARD "2Minuten 2Millionen"
Sponsor: ProSiebenSat.1. PULS4
WILDCARD "2Minuten 2Millionen"
Sponsor: ProSiebenSat.1. PULS4
Coverage in KLIMAHELDiNNEN
Sponsor: ProSiebenSat.1. PULS4
Coverage in 4LIFECHANGERS
Sponsor: ProSiebenSat.1. PULS4
Legal Package in the value of €3.000,-
Sponsor: 42Law
YDUN
Microsystems
Participation in the IECT Summer School on Entrepreneurship
Sponsor: IECT + TUW i²c
MathPie 
Nomination for Falling Walls 2021 in the Category "Future Learning"
Sponsor: TUW i²c
TUWi² Advisors in Residence Coaching + Participation in the E4Scientists Workshop Series
TUW i²c
Birgit Hofreiter fasste am Ende zusammen: "Wir sind stolz auf unsere Studierenden des Studienjahrs 2020, die ihr Engagement durch Durchhaltevermögen, Wissensdurst, Improvisationsgeschick und Hingabe insbesondere in Zeiten der COVID-19-Herausforderungen unter Beweis gestellt haben. Es war der erste – und hoffentlich letzte – Jahrgang, der diesen Lehrgang vollkommen virtuell absolviert hat, was gerade bei dem Format des Erweiterungsstudiums eine besondere Herausforderung für alle Beteiligten – Studierende, Lektor_innen und Mentor_innen – dargestellt hat. Wir sind uns absolut sicher, dass wir die Projekte der Studierenden in der Zukunft gedeihen und wachsen sehen werden."
Ein besonderer Dank gilt den Kooperationspartnern Wirtschaftsagentur Wien, Austria Wirtschaftsservice, STAGEtwo und Falling Walls, den Preisstiftern ProSiebenSat.1PULS 4 Gruppe, 42Law, I.E.C.T. Hermann Hauser und Future Law, sowie allen physisch und virtuell anwesenden Gästen, die diesen Nachmittag zu etwas ganz Besonderem gemacht haben.