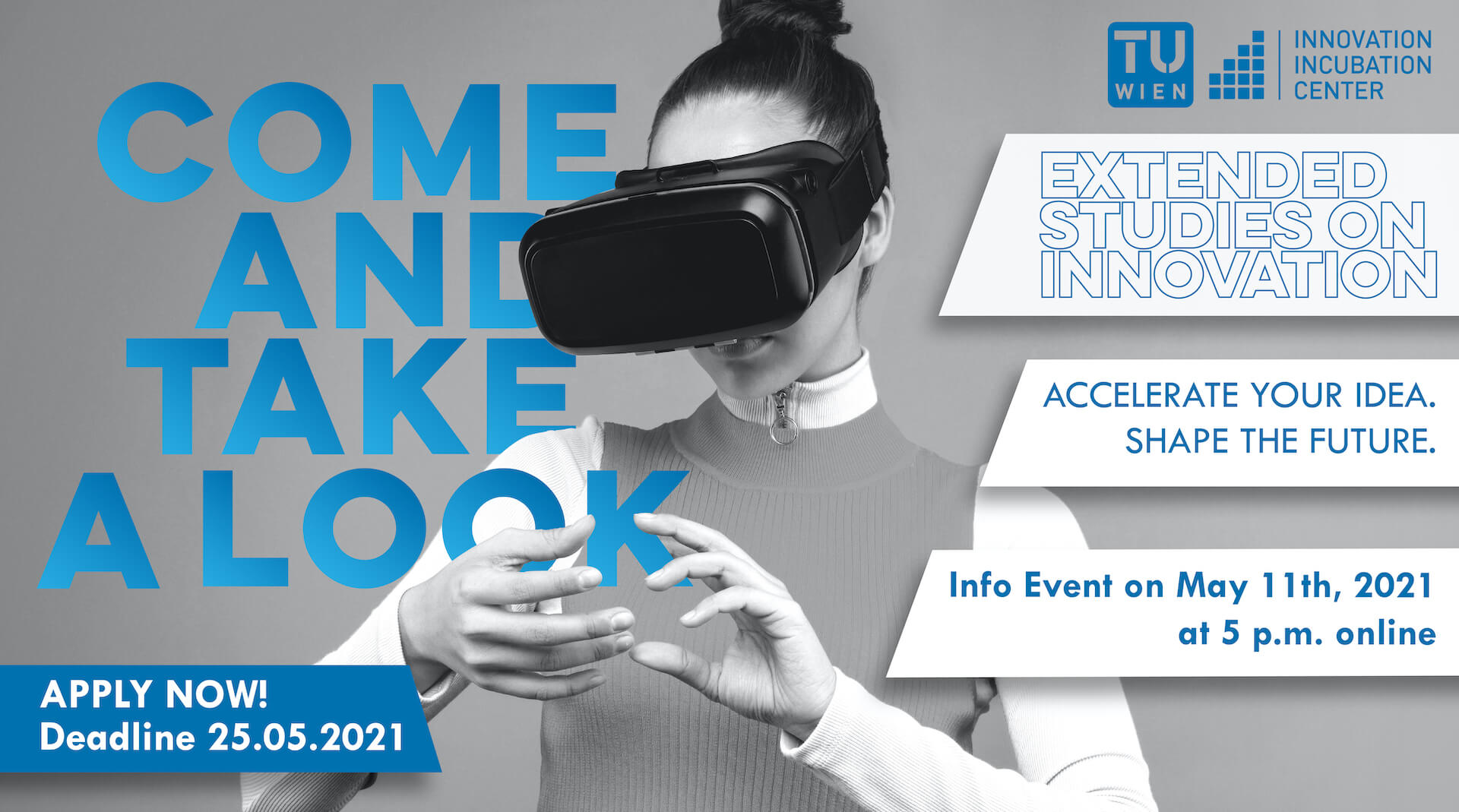 Education on Intra- & Entrepreneurship
The Extended Study on Innovation is an international curriculum providing a premium, hands-on education on intra- und entrepreneurship for students of TU Wien. It´s not only fostering innovative thinking but offering a solid education for entrepreneurial spirits, business developers and/or innovation managers. This additional education will not only enhance your job prospect in research and industry but also prepare you for an entrepreneurial life. Students will graduate with Extended Study on Innovation.
The Extended Study on Innovation is offered in parallel to the study programs of TU Wien. Only a limited number of students will be accepted for the curriculum, enabling them to individually apply the content learned to their specific, personal projects. Students have to apply according a pre-defined application process.
The Extended Study on Innovation is designed exclusively for
Entrepreneurial spirits, business developers and innovation managers enrolled in a study program at TUW
Visionary students who are encouraged to bring their own business ideas to the program to have the most effective learning experience
Ingenious researchers with a clear ambition to bring their research result to market
Creative students who desire to work for a startup or found their own company
Ambitious students who are intending a corporate career path in the innovation field
Students aiming to expand their knowledge regarding intra-& entrepreneurship
In the Curriculum you will
generate and shape your own innovative idea
get trained in innovation management, design thinking, idea generation, business modelling, finances (national and international), legal issues (business law, intellectual property rights, patent right and research, licensing), teambuilding, leadership, conflict management, human resources, marketing, sales, PR, pitching and more
implement the "lessons learned" in your own project
have access to our inter-/national network of mentors, founders, investors, industry and science partners, i²c alumni etc.
be supported & coached by inter-/national ICT-affiliated Pioneers
work together with like-minded TUW students from different faculties
present your own innovative project at the end of the curriculum (at the Diploma Demo Day) to a jury of potential investors, innovation scouts and experts who you get valuable feedback from
get the chance to be accepted into the TUW i²nkubator where you will get individual mentorship, initial funding and a co-working space in the Founder Space to further develop your project
Facts and Details
| | |
| --- | --- |
| Length | 2 semesters |
| Format | Part-time (It is implemented in parallel to the studies.) |
| Lecture dates | Mostly on evenings and weekends (Check our semester itinerary of the current semester) |
| Total workload | 30 ECTS |
| Start | October |
| Language | English |
| Attendance at lectures | Mandatory (due to their interactive character) |
| Format of lectures | Input-sessions, individual and group exercises, discussions, presentations, workshops, events, excursions and outdoor seminars |
| Group size | max. 25 |
Info Event
The Online Information Evening takes place on TUE, May 11, 5:00 pm - 7:00 pm. Register here. Please keep in mind, that only TUW students can participate. One day prior the Event the link for the Zoom Meeting will be sent out.
Contact
office@i2c.tuwien.ac.at +43-1-58801-406671