TUW spin-off Lignovations winner of the Sustainability Award @ StageTwo Competition
The TUW i2ncubated spin-off Lignovations founded by Martin Miltner, Stefan Beisl, Angela Miltner and Victor Tibo impressed a distinguished jury made of top-notch European investors and industry representatives with their drive and determination to bring to the market a technology that will revolutionize the chemical industry by accelerating the transition from using dirty fossil resources to clean biomass.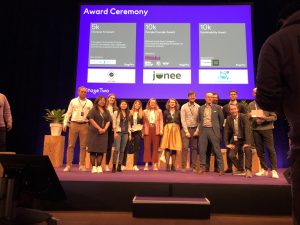 Stage Two is the first pan-European competition for the best startups spinning out of leading European universities. The event gathers early stage startups pre-selected by university-affiliated entrepreneurship centers during university rounds. The best 2 startups of each university pitch live at Stage Two in front of European top investors & industry leaders
TU Wien was represented this year by 2 startups, one stemming from the academic side and one from the student side in Berlin:
TUW spin-off Lignovations
Lignovations is developing and manufacturing bio-based lignin particles to replace problematic synthetic ingredients like UV-Filters, antioxidants and emulsifiers which have negative effects on human health, climate and the environment. Our natural lignin particles enable many industries such as cosmetics, coatings and food packaging to increase the sustainability of their products, thus accelerating the transition to a bio-based economy and creating a healthier future for our planet and its inhabitants.
The spin-off received the FFG Spin-off Fellowship Grant and is currently incubated in the TU Wien i²ncubator and the accent Inkubator.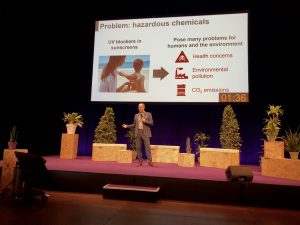 Startup kula
The App to Make an App
kula is a mobile app that enables everyone to create mobile apps. All you need is to tell kula which kind of app or what features you want and kula gives you a step by step guide that is easy to follow for non-technically skilled people. The apps then get published to the app stores automatically.
The startup is an alumni of the TUW i²c Extended Study on Innovation and currently incubated in the TUW i2ncubator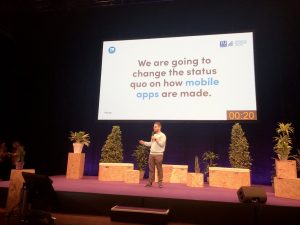 For more details, contact:
TU Wien Innovation Incubation Center
office@i2c.tuwien.ac.at