The fundamentals of the 'Jobs to be done' methodology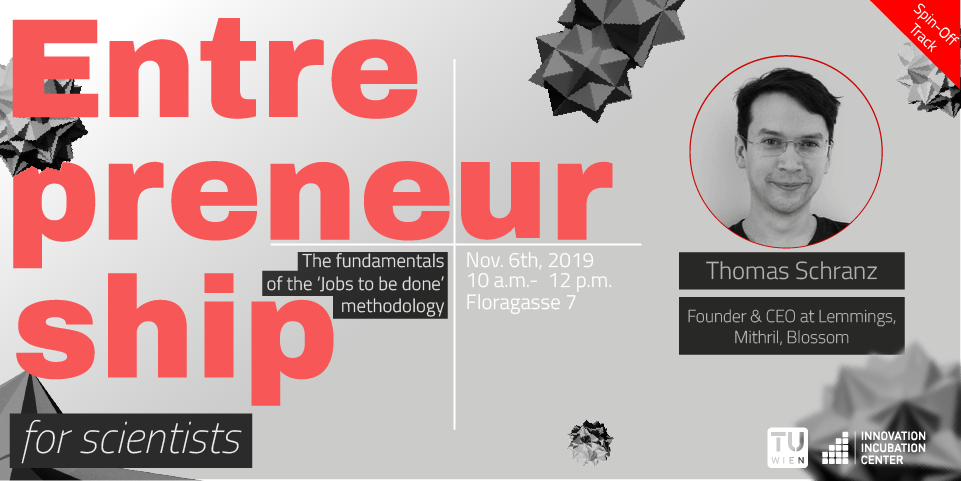 When:
November 6, 2019 @ 10:00 am – 12:00 pm
Europe/Vienna Timezone
2019-11-06T10:00:00+01:00
2019-11-06T12:00:00+01:00
Where:
TU Wien Innovation Incubation Center - i²c
Floragasse 7
2nd floor
Workshop description
The journey from an idea to something people want and care about is as challenging as it is exciting. This workshop gives an opinionated overview on how to go from 0 to 1.
About

 the 

lecturer

:
Thomas Schranz
Thomas is a Software Engineer turned Marketer turned Entrepreneur turned Angel Investor with passion for product management, building new things & japanese RPGs among other things.
Important Information:
This workshop is organized by the Innovation Incubation Center (i²c) at TU Wien and is for TUW scientists only. There is no fee, but registration is required using a TU Wien email address.
During the event, photographic and video material will be taken. Please inform the TUW Innovation Incubation team at the registration in case you do not agree with appearing in this material. The photographic and video material taken at the event will be used by i²c for printed and electronic media, including the Internet, for publication, education, lectures, radio, public performances, exhibitions or other promotional purposes.***