Technology Competence Leveraging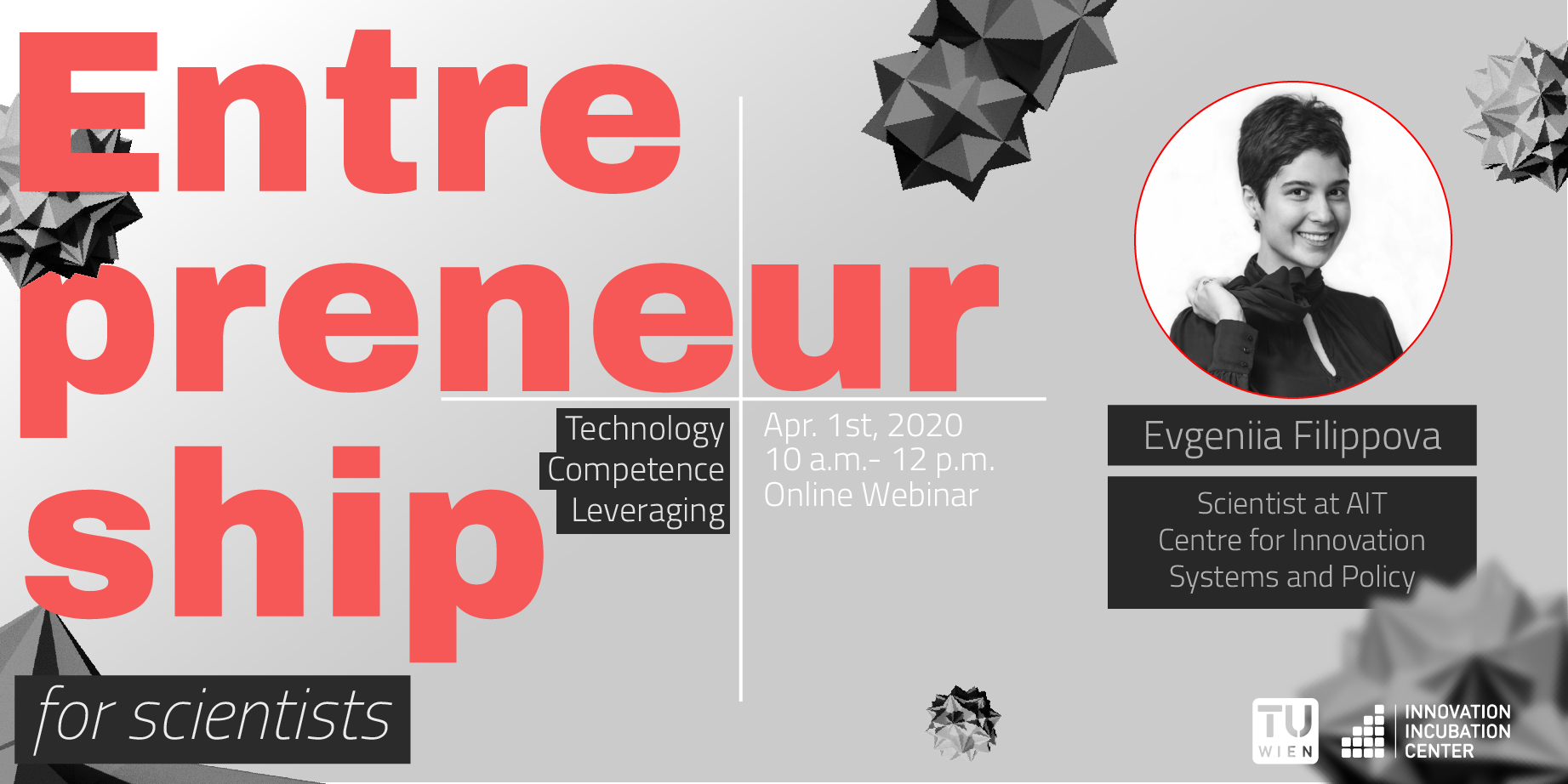 When:
April 1, 2020 @ 10:00 am – 12:00 pm
Europe/Vienna Timezone
2020-04-01T10:00:00+02:00
2020-04-01T12:00:00+02:00
Contact:
TU Wien Innovation Incubation Center
Evgeniia Filippova
Scientist at AIT Austrian Institute of Technology, Centre for Innovation Systems and Policy
As a scientist at the AIT Centre for Innovation Systems and Policy, Evgeniia Filippova investigates new patterns in socio-technological developments and helps formulate policy strategies for public authorities and firms.
Prior to that, Evgeniia has been a senior scientist at the WU Vienna, where she coordinated interdisciplinary research activities on Blockchain-based business models, delivered various lectures and workshops on Cryptoeconomics, FinTechs and Blockchains (within the WU Research Institute for Cryptoeconomics), taught a broad range of courses in entrepreneurship, business modelling and innovation management (within the WU Institute for Entrepreneurship and Innovation). Evgeniia Filippova has extensive experience in supporting scientists to transfer their research results into successful business models gained, among others, at CERN where she has been responsible for analysing smart sensor technologies with regards to their potential commercial applications and for providing entrepreneurial training for scientists with a technical background.
Workshop "Technology Competence Leveraging: How to Commercialize Your Technology" // "Technology Competence Leveraging: Finding Commercially Attractive Applications for Your Technology"
Finding the commercial potential of your research results is often a challenging task. This workshop will provide you a concrete step-by-step methodology how to:
Analyse your research results from a customer's prospective;
Search for market(s) with the highest commercial attractiveness;
Decide which market to go for;
Design a successful business model.
The workshop may be of interest for early-stage entrepreneurs with a technical background and for all those who consider applying for a research grant and need support with the exploitation of the research results.