Joint Forces #2
When:
October 11, 2017 @ 6:00 pm – 7:30 pm
Europe/Vienna Timezone
2017-10-11T18:00:00+02:00
2017-10-11T19:30:00+02:00
Where:
Innovation Incubation Center - i²c TU Wien
Floragasse 7
1040 Wien
Austria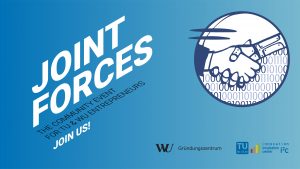 With Joint Forces to Success

Get support for your project from a community of innovators and entrepreneurs of TU and WU. Present either your start-up or your first idea in a relaxed setting and without pressure. At Joint Forces you have the opportunity to attract the attention of interested co-founders, employees and mentors. The feedback from the community can provide the decisive impulse for the next step.
The event in 3 acts
3 START-UPS – Already founded start-ups, which have provided their proof-of-concept, are pitching and looking for employees, valuable contacts or investors.
3 PROJECTS – Without guidelines or specifications, future founders are presenting their project ideas to get some feedback and perhaps even get to know future co-founders.
3 SHOUT-OUTS – Everyone has the chance to make a brief request, an event announcement or whatever. No feedback, no questions – who wants to know more, has to ask for details during the networking afterwards.
Hard facts
11.10.2017 | 6:00 pm – 7:30 pm | WU/TU | 3 start-ups | 3 projects | 3 shout-outs

Venue: TU Wien, 1040 Vienna, Floragasse 7, ground floor

Registration for start-ups and project ideas: gruenden@wu.ac.at

Shout-outs and other participants need no registration – pls just come by!
Call for start-ups
Start-up founded and looking for motivated employees, interested mentors or the first investment? Joint Forces offers you the stage. Pitch the vision of your start-up and add new drive to your team.
Call for ideas
You have an idea, but your friends are not a big help because no one has any idea of founding a company? Then muster all your courage and walk up on our stage. Present your idea at Joint Forces and get support and feedback.
Call for participants
You are a start-up enthusiast and want to learn about new ideas? You know why most start-ups fail and what could be improved? You are looking for an evening event that has not existed yet? Then come to Joint Forces and support young start-ups and project ideas. Without registration, without costs, but with drinks and pizza!
Joint Forces is a bi-monthly event hosted by the Innovation Incubation Center (i²c) TU Wien and the WU Gründungszentrum.