i²c Founder & Investor Talk #51: "Building a FinTech unicorn – and the lessons we learned" by Georg Hauer
When:
June 5, 2019 @ 5:30 pm – 7:30 pm
Europe/Vienna Timezone
2019-06-05T17:30:00+02:00
2019-06-05T19:30:00+02:00
Where:
EI 10 Fritz Paschke Hörsaal, Ground Floor, TU Wien
Gußhausstraße 27-29
Staircase I
1040 Vienna

Abstract
In 2019, Germany finally saw the birth of its first fintech unicorn. Only six years after its launch, N26 is now the leading mobile bank in almost every European market and aiming to enter the US later this year. In this talk, Georg Hauer will speak about the journey of N26, from starting small to becoming one of the most influential fintech brands around the globe, how to disrupt one of the biggest industries of the world and turn something that people don't usually identify with – their bank account – into something they love. What lessons has N26 learned along the way? Georg Hauer will give insights on how N26 raised 500 million USD from investors and established N26 as a successful European company with currently more than 750 employees in Berlin, Barcelona and New York.
---
More about Georg Hauer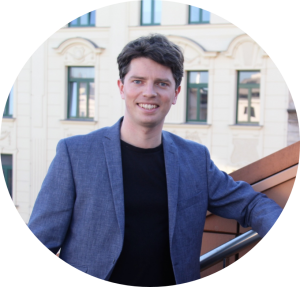 Georg is General Manager Austria for N26, the mobile bank. In addition, he leads N26's global Product Marketing and business development in Germany. Before that he was General Manager at Uber and management consultant at The Boston Consulting Group. He has an MBA from The Kellogg School of Management in Chicago and a Magister from WU Vienna. N26 was founded in 2013 by Valentin Stalf und Maximilian Tayenthal in Vienna. Today, N26 is one of the fastest growing banks in Europe. Since 2015 the bank obtained more than 2,300,000 customers in 24 countries and investments of $500M. Austria is considered by N26 as its 2nd home market.
---
Note
The Founder & Investor Talks organized by the Innovation Incubation Center (i²c) at TU Wien enable the audience to learn first-hand from experienced founders and investors. They share their international experiences, dos and don'ts and lessons learned during inspiring talks and answer questions in interactive Q&A-sessions. The talks are concluding with the possibility for networking with like-minded people accompanied by some free drinks. With the TU Wien Alumni Edition, the i²c wants to showcase especially TU Wien alumni, who decided to take the entrepreneurial path and offer an extra stage for their success stories.
---
Free entry but registration is necessary!
***During the event, photographic and video material will be taken. Please inform the i²c team at the venue in case you do not agree with appearing in this material. The photographic and video material taken at the event will be used by i²c in printed and electronic media for promotional purposes.***