i²c Founder & Investor Talk #46: ""…and then we were called a unicorn." – The 3 secrets to succeed as a start-up"
When:
March 6, 2019 @ 5:30 pm – 7:30 pm
Europe/Vienna Timezone
2019-03-06T17:30:00+01:00
2019-03-06T19:30:00+01:00
Where:
EI 10 Fritz Paschke Hörsaal, Ground Floor, TU Wien
Gußhausstraße 27-29
Staircase I
1040 Vienna

Abstract
"Ideas don't make you rich. The correct execution of ideas does." is a famous quote by billionaire Felix Dennis. Most young entrepreneurs are driven by the great passion for their ideas, some love the vibrant spirit of a startup-culture and a few just want to become super-wealthy very quickly. Who of them will succeed, who of them will fail? How to balance product, sales, team, financing,…? Wolfgang Platz, founder of Tricentis, shares his experiences and findings on the way to build an Austrian unicorn.
---
More about Wolfgang Platz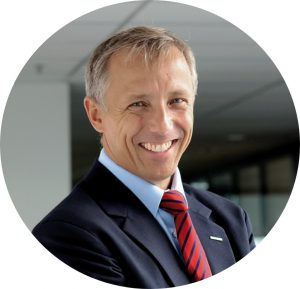 Wolfgang Platz brings over 20 years of technology experience to Tricentis. Wolfgang founded Tricentis in 2008 as a testing consultancy and laid the cornerstone for the development of our enterprise software testing product, Tricentis Tosca. Today, he is responsible for global product management, R&D and delivery of product-related support and services to our customers. Prior to Tricentis, Wolfgang was at Capgemini as a group head of IT development for one of the world's largest IT insurance-development projects. There, he was responsible for architecture and implementation of life insurance policies and project management for several projects in banks. Wolfgang holds a Master's degree in Technical Physics as well as a Master's degree in Business Administration from the Vienna University of Technology.
---
Note
The Founder & Investor Talks organized by the Innovation Incubation Center (i²c) at TU Wien enable the audience to learn first-hand from experienced founders and investors. They share their international experiences, dos and don'ts and lessons learned during inspiring talks and answer questions in interactive Q&A-sessions. The talks are concluding with the possibility for networking with like-minded people accompanied by some free drinks. With the TU Wien Alumni Edition, the i²c wants to showcase especially TU Wien alumni, who decided to take the entrepreneurial path and offer an extra stage for their success stories.
---
Free entry but registration is necessary!
***During the event, photographic and video material will be taken. Please inform the i²c team at the venue in case you do not agree with appearing in this material. The photographic and video material taken at the event will be used by i²c in printed and electronic media for promotional purposes.***