Are you interested in spinning out your research put but you don't know what sources of funding are out there and what fits? This workshop offers you an overview of the multiple ways you can monetarily support your endeavor as a scientist and as a founder and puts you in direct contact with stakeholders from the Viennese ecosystem.
The event is beginning with an overview of ways one can fund a new venture by Florian Kandler followed by 2 hours of fair-like access to various organizations from the local ecosystem.
At the end of the workshop, you will understand the difference between various sources of funding as well as the programs and requirements of the Viennese organizations offering monetary support.
Organizations attending:
Austrian Private Equity and Venture Capital Organization:AVCO, Austria Wirtschaftsservice, aws i2 Busines Angels, aws Industry-Startup.Net, aws Connect, Conda, eQventure, FFG, IST-Cube, primeCROWD, Startup300 and Capital300, Vienna Business Agency
Lecturer: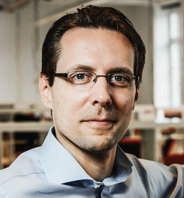 Florian Kandler, PhD, TU Wien alumnus, is a serial founder from Vienna. Two of his own startups have raised several million Euros from Angels and VCs in Europe and the USA, including eCommerce legend Oliver Samwer (Rocket Internet). He lived in Copenhagen, Munich and Silicon Valley – and currently in Vienna.
Via his platform GetFunding.how, Florian has coached business owners and startup founders in 15 countries on fundraising, pitching and B2B sales in workshops, one-on-one, and via his online programs like the Fundraising Masterclass.
He supports the innovation ecosystem by publishing the yearly Startup Report, hosting the "Startup Milestones" and the "Gründer & Zünder" podcasts, and teaching and talking at select conferences. He is also the official pitch coach of "2 Minuten 2 Millionen", the Austrian version of the TV show "Shark Tank".
Important Information:
This workshop is organized by the Innovation Incubation Center (i²c) at TU Wien.  There is no fee, but registration is required.
During the event, photographic and video material will be taken. Please inform the TUW Innovation Incubation team at the registration in case you do not agree with appearing in this material. The photographic and video material taken at the event will be used by i²c for printed and electronic media, including the Internet, for publication, education, lectures, radio, public performances, exhibitions or other promotional purposes.***